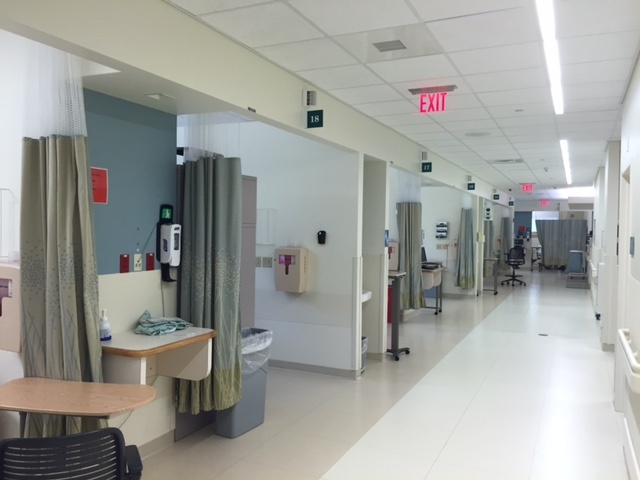 You would be hard-pressed to find a more passionate, long-term nurse than Laurie Heels. Heels is the Director of Periop Services here at Dartmouth-Hitchcock (D-H) and it is certainly a well-deserved title. In fact, she has been a D-H nurse for 27 years! Throughout her time here, she has been a part of multiple departments including the PACU and the OR and now she works every day to lead the Perioperative team along the road towards the most efficient and quality care possible.
Technology
Heels said that when she initially chose Perioperative nursing as a specialty, she did so primarily because of the technology. "I had chosen Perioperative nursing back when I was in the military. I really appreciated the ability to care for one patient at a time while simultaneously being a part of a team. Also, the technology that we use creates an environment where you can do really amazing surgical things! If I weren't in nursing, I think that I would been an engineer."
We asked her what she considered some of those amazing things to be and she explained, "When I started my career, we used to do all of our aortic aneurysms open and now we do them using an endovascular approach. You just make a small incision in the groin, insert a catheter and all the work is done through the catheter. The technology is amazing and the patients benefit the most.
In the past, a patient with a complicated aneurysm would require an open approach which had greater complications. One surgeon I worked with actually customized the endovascular graft before insertion to meet the unique needs of the patient. This was a 22 hour case. The surgeon was using both art and science to offer the patient the best surgical outcome. Now these cases are routine.
Today we are much more advanced and are doing many more cases laparoscopically and with robotic assistance. We are using approaches that benefit our patients and that are cutting edge. "And as a new grad you just get to be a part of all this new technology. It's great!"
Advantages
There are certain defined advantages to a career in Perioperative nursing including higher pay grades than other specialties, but the choice to become a Perioperative nurse really depends on your values. Heels mentioned that, "From a pay perspective it is grouped with the highest level pay because it's a trauma hospital. We do get our share of traumas! For those nurses who are interested in long-term connection with a patient, meaning that they will see patients from start to finish and possibly see them again and again this may not be ideal. We as Perioperative nurses have a targeted interaction where we bring our expertise when they are asleep and at their most vulnerable. It's about where your satisfaction comes from. Perioperative nurses need to be less interested in long-term and more interested in working with a team to solve a problem. That in and of itself is very professionally satisfying to Perioperative nurses. You get the opportunity to make a large impact strategically."
Considering a Perioperative Career
For those who are considering a career in Perioperative nursing, Heels urges you to look inside yourself and decide what a good day looks like for you. She said, "If a good day for you is working with a team and providing an indirect, unseen relationship…if that is important, then this can be the perfect place. Self-assessment is so critical. When nurses leave the department, it usually has to do with missing the relationship with the patient. They tend to go to critical care or same day or the clinic. Missing connections is something to be taken into account. Perioperative nursing is a totally different mental space."
Of course, Perioperative nursing is not entirely without patient interaction. Often it means a strong, quickly established one meant to provide patients with the confidence they need to succeed. "You only have a few moments to meet them powerfully and all they can see is our eyes since we are wearing masks. It is important to try to convey warmth and confidence; that's how you have to do it. When you meet patients ahead of time they're scared. You need to be able to provide a light touch on an upper arm and say something like 'I'm Laurie, and you have an awesome team working with you today.'
After they go under anesthesia they are completely vulnerable. It is our professional responsibility to provide compassionate, skilled care and advocate for them while in this vulnerable period. We don't really get to see them beyond them waking up, but we do get to tell them they're done and they're okay. Every patient has a story. We should never lose sight of that story when we are taking care of them. It's a gift to treat patients," said Heels.
Strong Perioperative Nurses
Accordingly to Heels, great Perioperative nurses help to create synergy and anticipate needs before they are asked for. One might say that a Perioperative nurse has a gift for precognition.
She said, "I grew up playing an instrument so I look at it this way. When the team is focusing on surgery, the OR nurse is the conductor of the room, watching to make sure that everyone is playing their part. If anyone is playing on the wrong sheet of music they provide feedback, raise concerns and keep things running smoothly. OR nurses are the one set of eyes focused on the environment as a whole. They're paying attention to everything! Breaches in sterility or the field, if the team requires more sponges…these nurses don't need to be asked to help, they just know how to make sure that there are no hiccups in the "music.'"
The D-H Difference
Perioperative services at D-H exemplifies the meaning of the word team. "Some people like to use the analogy that they are a family. I tend not to use that analogy because people can treat each other with a lack of respect within a family. We are a team. I know the people I work with. I know what their strengths and weaknesses are and I think we are all thankful for what each person brings and the roles that we play. It feels really good. We fight with siblings and in the OR there is no place for that. There is a difference," said Heels.
The truth is, talented nurses have their pick of employers, but still Heels chose D-H over the others for many reasons. She said, "I initially chose D-H because I was really impressed with the professional reputation of the hospital and I was also impressed with the individuals that worked there. I was really welcomed and made to feel like a valuable member of the team. Also – I like the physical environment around the hospital. When I park, I walk along a lighted path. I see turkeys, deer, squirrels… When I first joined almost 27 years ago I was impressed by the nursing culture and how the leaders supported their nurses. As a nurse and leader, I try to create the same environment that helps D-H nurses grow and create their best career."
Outside of Work
When Heels isn't busy practicing nursing you can probably find her outdoors or in a comfy chair with a book. She said, "We're in a beautiful setting! I love to trail run, hike…I just love to be outdoors. When the weather isn't conducive, I am usually curled up with a book.
I've lived here for 27 years and I'm still finding cool, new things. Museums, activities…we're surrounded by a lot of small towns and there's so much richness to take in. My favorite discovery so far is probably the Boston Lot. Dartmouth College and the Town of Lebanon own a tremendous amount of property made up of protected land with a large manmade lake surrounded by trails that wind in and around the area. Runners, mountain bikers and trail runners all use them. You just walk out the hospital doors and the trails lead into this immense network! Where I live now I can get to them within 5 minutes! It's such a neat, hidden gem that is in plain site that will never be developed."
The truth is though, this feeling of wonder when it comes to the setting around D-H is not an uncommon feeling. Heels said, "We have a number of travelers that come to work with us and without fail they always talk about our professionalism, collegiality and teamwork. We have a really special location and we really take care of each other. We work to help each other rise to be the best we can be. I think that's a pretty amazing place to work."
--
Want to work with the to Periops?